This week Toronto City Council meets to decide on whether or not to accept the recommendations from the Expert Advisory Panel regarding transit on Sheppard Avenue East. The panel, which released its report on Friday, concluded that light rail transit (LRT) was the better option for Sheppard Avenue, not just because it is most cost effective, but for a variety of other benefits.
Mayor Rob Ford has dismissed the panel as biased and its recommendations as "hogwash", insisting that the public wants subways. Panel spokesperson and U of T professor Eric Miller, when questioned, suggested that the LRT option has never been properly explained to the public. "Mayor [David] Miller did not explain it properly to them when Transit City was first announced," he said.
And misinformation persists about what an LRT is — a trolley, a streetcar, the St. Clair disaster. Debate and decisions about the investment of billions of dollars in transit are happening without accurate information.
But there is reason to think that people who have been given a clear explanation of rapid transit options will be interested in building and using an LRT.
Transit technology explained
A survey conducted in January 2012 by Environics for the Pembina Institute asked drivers (not transit users) a number of questions about commuting in the GTA, including the following:

"How interested would you be in using the following new rapid transit options if they were built along your route?"
During the survey, respondents were informed and educated as to what "rapid transit" is and how it differs from conventional transit options such as a bus. Survey respondents were provided with clear descriptions of each rapid transit technology to inform their selections. These descriptions are presented in the table below:
| | |
| --- | --- |
| | Subway: Operated by the TTC in Toronto, it runs on a track that is completely separate from road and pedestrian traffic. The Toronto subway travels mostly through underground tunnels, although some stations are at street level. |
| | Light Rail Transit: A fast-moving train that operates in its own right-of-way (a separated traffic line, or off street route). LRTs have about twice as many stops as subways but fewer than bus or streetcar routes. They are faster and can carry more people than buses and streetcars. |
| | GO Train: A train that operates on existing railways and tends to cover longer commuting distances. |
| | Rapid Bus: a bus that travels in its own lane separated from traffic by curbs. Rapid bus lanes are being built along Yonge St. and Hwy 7 in York Region. |
| | Rapid Streetcar: A streetcar that travels in its own lane separated from traffic by curbs, such as the Queensway or St. Clair streetcars, and is faster than regular streetcars that travel in traffic such as Queen St. or College St. |
The results, presented in the following graph, suggest that the public — or at least drivers in the GTA — would be interested in taking rapid transit if it were available. When provided with information and descriptions on what transit options are and what they could look like, respondents favoured LRT and subway about equally.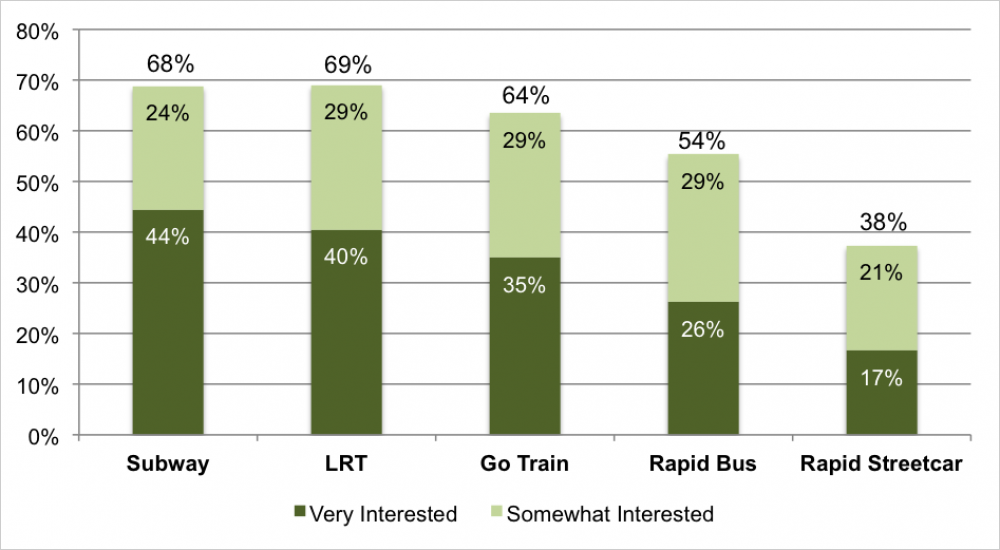 The full survey examines drivers' opinions on commuting solutions in the GTA and will be released in April 2012.
A train by any other name
While the Sheppard LRT lines will run along an existing street, the comparison to a streetcar should end there — in reality LRT is much more similar to subway trains than streetcars.
Here are some techno truths about light rail transit:
LRT does not block traffic. As with subways, LRT on Sheppard would operate in a dedicated right of way isolated from traffic and not take lanes away from vehicles.
LRT is designed for commuting, perfect from distances like Scarborough. Stations are spaced further apart than streetcar stops (but closer than subways). These factors combined with signal priority make LRT more reliable and predictable, akin to subways.
LRT can carry more people than streetcars. LRT has a capacity of up to 25,000 passengers per hour per direction versus 10,000 for streetcar and 40,000 for subways.
LRT can board faster than a streetcar with four door boarding (instead of one), payment before entry and level boarding (no steps).
LRTs are good for neighbourhood vitality. Running mostly at street level, LRTs encourage shopping and activity in local businesses along the street unlike subways that take business underground and away.
It's possible for LRTs to have more frequent service than subways. Since each LRT train has a lower capacity than a subway train, LRTs can run more frequently than subways while serving the same peak load. Frequency of service — how long one has to wait for transit — is generally a greater concern to suburban riders than crowding is.
First class transit
Those claiming that Scarborough deserves world-class transit should know that LRT is the mode of choice in other North American cities, including Boston, Calgary, Dallas, Houston, Los Angeles, Ottawa, Philadelphia, San Diego, Seattle and Washington, D.C.
Residents of Scarborough should be given accurate information about what they would gain with an LRT, rather than being told they are losing a subway that was never funded.
---
Cherise Burda
Cherise Burda was Ontario director at the Pembina Institute until 2015.
---