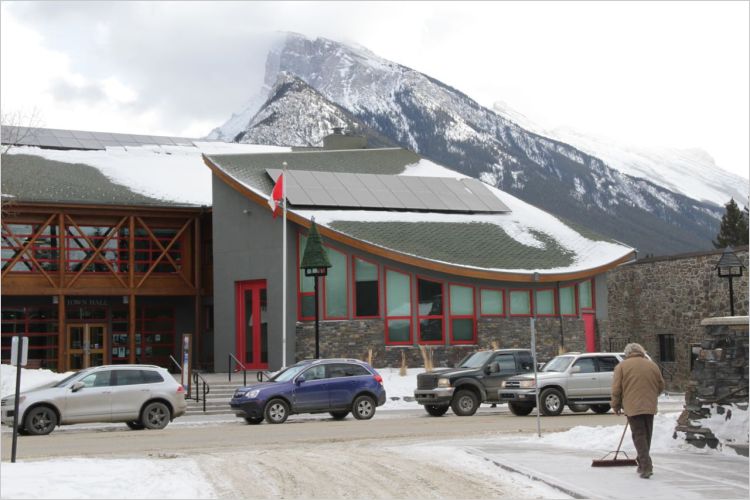 Banff National Park is famous for its beautiful mountain views, its diversity of wildlife and its many, many tourists. Canada's most popular national park gets more than three million visitors a year. Located within the national park, the town of Banff has branded itself as an environmental role model both for its eco-conscious citizens and its visitors.  
And in that vein Banff is now the first municipality in Canada to implement a feed-in tariff or what it's calling a 'solar PV production incentive'. It is a simple, revolutionary piece of policy that ensures its residents and businesses get a fair rate of return for investing in clean energy production.
Germany was the first place to implement the feed-in tariff on a large scale but it didn't start with a massive countrywide program. It started small with a municipal feed-in tariff in the town of Aachen, population 260,000.
Gainesville, Florida, was the first North American municipality with a feed-in tariff. From 2009 to the end of 2014 the town of 127,000 people has installed 15 megawatts of solar PV because of this policy.
Now Banff, population 9,600, is following in the footsteps of Aachen and Gainesville. Banff town council approved its solar PV production incentive unanimously on February 23, 2015.
Banff has a creative funding mechanism for this project. They set aside their municipal franchise fee, the rent paid by the local utilities for using the space under their streets and sidewalks for their infrastructure, into an environmental reserve fund.
"It was visionary of council back in 2010 to put this money into an environmental reserve instead of general revenues. That gives us a lot more options to do programs like this and not tax the tax base," says Chad Townsend, the environmental coordinator for the town.
They've used this money to fund LED streetlights, waterless urinals, hybrid buses and solar installations on public buildings. They have also used these funds to pay for energy efficiency rebates to citizens on fridges, toilets, hot water systems furnaces and other appliances.
Solar makes sense in Banff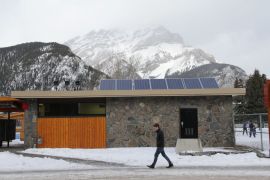 Townsend was responsible for drafting the policy that council has now set aside $300,000 for.  And when it came time to pick what renewable energy technology they wanted to focus on, the answer was quickly clear.
"Alberta's solar resource is well known, and we think that is our best option amongst the renewable energy options for generating electricity," says Townsend. The fact that they're in a mountain valley and there isn't a lot of cheap, available land also factored into their decision to concentrate on solar over wind.
The town will use a lottery to determine who gets access to the budget-limited program. You have to be a resident of the town and you have to have an approved micro-generation site.
The incentive is based on giving people a seven-year payback on their solar investment. The amount of money paid to individual people and businesses will vary based on a number of factors. There are different rates depending on the size of the system and the incentive is ultimately based on production, so things like shading and snow introduce a certain degree of variability.
How the Banff solar production incentive works
A resident installs a four-kilowatt solar PV system at a cost of $13,650.
Their electricity costs (not including transmission and distribution charges) come to around $1,160 a year (based on Alberta's average household use of 7,200 kilowatt-hours per year).
Their solar PV system saves them $550 a year.
The solar PV production incentive gives them another $1,400 a year.
The incentive stops after seven years.
This is only an example; every single system will be different.
Solar Leadership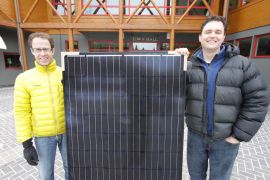 Townsend says Banff expects to get 165 kilowatts of solar PV installed on residences, multi-family units and businesses from the program. That might not sound like a lot, but for a town that size, that's not bad at all.
With the existing solar PV projects on the town hall, public washrooms and the high school and the planned installations from the incentive program, the town of Banff will have an average of 21 watts of solar PV per person.
That's more than 16 times Alberta's meager average of 1.28 watts of solar per person (based on 5,336 kW of installed PV capacity and an Alberta population of 4.146 million people). Banff isn't just talking about being an environmental role model; they're actually doing it.
"Really, it's just doing the right thing. As we move forward, transitioning off of non-renewable energies is the right thing to do for our community, it's the right thing to do for our residents and our business community. If the town of Banff has the means to encourage our community to get involved then council absolutely supports that," says Grant Canning, councillor and deputy mayor of Banff town council.  
The next time you're in Banff enjoy the mountain views, enjoy the wildlife and see if you can spot a couple of solar panels in the wild as well. 
---
David Dodge
David was the host and producer of the Green Energy Futures multimedia series.
Duncan Kinney
Duncan was the editor and production manager of Green Energy Futures until 2015.
---