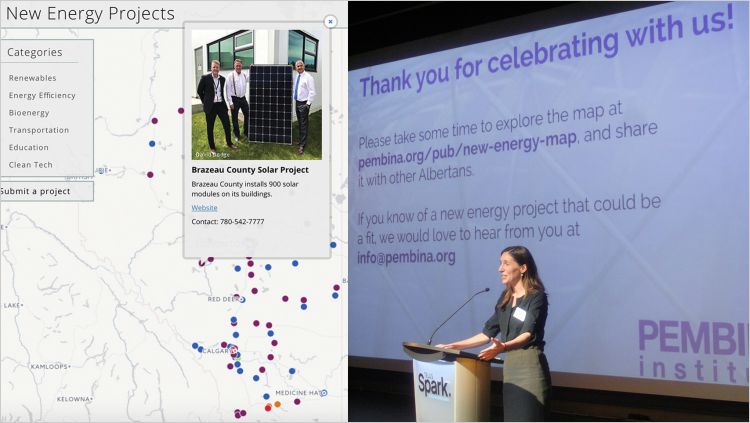 Across Alberta, people, communities, and businesses are participating in the new energy economy. Clean energy projects, ranging from wind and solar electricity generation to energy efficiency and clean technology innovations, are creating jobs and investment opportunities for the province.
Alberta's New Energy Projects Map is an interactive online tool created by the Pembina Institute. It showcases the multitude of new energy projects operating or under construction in the province from 2012 onward. Albertans can use the map to see how many clean energy projects have sprung up around the province in the last five years.
Each project on the map represents a success story — an instance where innovators are leading the way in Alberta. Examples include Steve and Amber Kenyon, Alberta farmers that run their cattle operation almost entirely off solar power, and the Schuurman Dairy Farm, which saw its energy bills drop 60 per cent after installing solar panels.
The map also includes municipalities, such as the Town of Leduc, which recently installed a 1.14 megawatt rooftop solar system — the largest in western Canada, and Medicine Hat, which is home to the only solar thermal plant in all of Canada.
Other projects may not be as obvious to the average Albertan, but they are just as important. Landmark Homes, for example, has developed an energy efficient, cost-effective net zero home. And the City of Calgary is saving approximately $1 million dollars per year with efficient LED street lights.
Over 100 of these success stories are featured on Alberta's New Energy Projects map. Each is a testament to Alberta's resilience, perseverance, and innovation as one of the many economies around the world now taking advantage of clean growth opportunities.
The map is a living library, and will expand as Albertans submit their own projects and continue to pursue new energy opportunities.
Aletta Leitch is a Pembina Institute analyst based in Whitehorse, supporting the clean energy economy program.
---
---