Maintaining a healthy environment, a stable climate and prosperous communities requires collaboration, evidence-based decision making and innovative solutions.

That's what the Pembina Institute is about.
The Pembina Institute is working to solve today's greatest energy challenges — reducing the harmful impacts of fossil fuels while supporting the transition to an energy system that is clean, safe and sustains a high quality of life. We provide our expertise to industry and government leaders, and we advocate for a strong, science-based approach to policy, regulation, environmental protection and energy development.
It's time to transition to cleaner energy systems.

---
What we do 

As Canada's go-to source of energy expertise, we provide research, analysis and recommendations to inform policies and practices related to energy. We advocate for approaches that protect our natural systems and communities.

We convene important conversations with thought leaders from industry, government, communities and the environmental sector to identify common ground and move solutions forward.

We present credible and practical perspectives on the role of energy in our society. We ground Canada's energy conversation in the facts, and we challenge conventional thinking with innovative solutions.
---
Our guiding principles
Mission
To advance a prosperous clean energy future for Canada through credible policy solutions that support communities, the economy and a safe climate.
Vision
The Pembina Institute envisions a world in which our needs are met in ways that protect natural ecosystems; ensure clean air, land and water; stop contributing to climate change; and promote a just global community.
Statement of our core values
Climate change threatens everyone. We must come together to evolve how energy is created and consumed through solutions based on equity, curiosity, evidence-based thinking and practicality.
---
Where we come from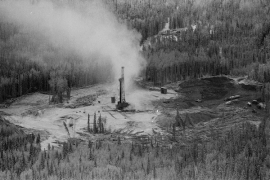 Three decades ago, the Pembina Institute was formed following a major sour gas incident in Alberta. The Lodgepole blowout killed two people and polluted the air for weeks. The event was largely the result of poorly regulated energy development. 
In response, a small group of rural Albertans came together to secure tougher regulations for drilling sour gas wells. Those regulations were implemented province-wide.
The core members of that group went on to form the Pembina Institute.  
Since then, our work has expanded outside Alberta, but our focus remains the same: We push industries and governments to go beyond the bare minimum to manage the impacts of energy development, and we advocate for those improvements to be embedded in provincial and federal policy.
Learn more about our 30-year journey.
---
Where we work
Our staff work on regional energy priorities and major national energy-related issues.
Alberta
Founded in Drayton Valley following the 1982 Amoco Lodgepole sour gas blowout, the Pembina Institute knows Alberta. We understand the province's unique energy challenges: Alberta has Canada's largest conventional and unconventional oil and gas reserves, and it also relies on coal to produce the majority of its electricity. As a result, Alberta pumps out more carbon pollution than any other province in Canada.
Our work in Alberta aims to change that. We advocate for science-based limits on fossil fuel development, and replacing coal-fired power with clean renewable electricity. With world-class wind, solar and geothermal resources, Alberta has the potential to lead the nation in renewable energy generation.
Alberta is the first province to have put a price on carbon pollution. The money collected through this carbon price or levy feeds a technology fund, but this approach has room for improvement. More of that fund could be used for development of renewable power, including within the oil and gas sector. Opportunities to increase energy efficiency in the province are also plentiful — in fact, our research shows that investing in energy efficiency could save the province $29 billion and 176 Mt of carbon pollution in 15 years. We are also a founding member of the Alberta Energy Efficiency Alliance.
British Columbia
British Columbia has taken significant steps in the transition to cleaner energy. The province combines innovative building solutions with an advanced clean energy technology sector and world-class climate policies.
But B.C. is at a crossroad. Pursuing a liquefied natural gas (LNG) industry has the potential to drastically increase B.C.'s carbon pollution with significant implications for clean land, air and water.
Our work in B.C. explores solutions that can help the province remain an economically competitive climate leader. For LNG this means encouraging responsible development that considers the big picture: from wells to waterline and beyond. The outreach we do on innovative building solutions strives to develop standards that will make B.C. home to the cleanest building industry in North America. The carbon pricing work we undertake seeks to expose the benefits of B.C.'s world-renowned carbon tax. Our clean energy technology research encourages robust development of the sector in B.C. for domestic use and export.  
Ontario
As the first province to phase out coal-fired power, Ontario has shown great leadership on reducing carbon pollution. Wind, solar and biomass-fuelled electricity now increasingly contribute to the province's grid. However, as Ontario's population grows, transportation has become the province's largest and fastest-growing source of carbon pollution. 
Without the appropriate policies in place, many cities in Ontario will continue to sprawl while their roads and highways become more and more congested. This has serious implications for clean air and climate change.
In Greater Toronto, the Pembina Institute is investigating new and innovative policies that encourage location-efficient development, where residents can walk or cycle to workplaces, amenities and rapid transit, rather than depending on a car.
This will give people the choice to live closer to where they work and play.
National
Many of the regional energy priorities we work on also have a national component — particularly when local or regional outcomes are influenced by federal policies and regulations, or when one region's experiences could offer important insight into solutions for other cities, provinces or the country as a whole.
We aim to leverage regional successes to help other jurisdictions across Canada transition to cleaner energy. Promoting the shift to an energy system that meets the needs and desires of Canadians without compromising a safe and healthy environment is important to us. We also advocate for federal laws and regulations that reduce the negative impacts of fossil fuel development. 
---
At the Pembina Institute we are working to build an energy system that protects our climate and our communities — one that Canadians can be proud of.  
Help us make it happen!