Maintaining a healthy environment, a stable climate and prosperous communities requires collaboration, evidence-based decision making and innovative solutions.

That's what the Pembina Institute is about.
The Pembina Institute is working to solve today's greatest energy challenges — reducing the harmful impacts of fossil fuels while supporting the transition to an energy system that is clean, safe and sustains a high quality of life. We provide our expertise to industry and government leaders, and we advocate for a strong, science-based approach to policy, regulation, environmental protection and energy development.
It's time to transition to cleaner energy systems.
---
What we do 

As Canada's go-to source of energy expertise, we provide research, analysis and recommendations to inform policies and practices related to energy. We advocate for approaches that protect our natural systems and communities.

We convene important conversations with thought leaders from industry, government, communities and the environmental sector to identify common ground and move solutions forward.

We present credible and practical perspectives on the role of energy in our society. We ground Canada's energy conversation in the facts, and we challenge conventional thinking with innovative solutions.
---
 Our guiding principles
Mission
To advance a prosperous clean energy future for Canada through credible policy solutions that support communities, the economy and a safe climate.
Vision
The Pembina Institute envisions a world in which our needs are met in ways that protect natural ecosystems; ensure clean air, land and water; stop contributing to climate change; and promote a just global community.
Statement of our core values
Climate change threatens everyone. We must come together to evolve how energy is created and consumed through solutions based on equity, curiosity, evidence-based thinking and practicality.
Equitable workplace
In Canada's clean energy transition, innovation and meeting society's energy demands must go hand in hand with ensuring equity. Diversity and inclusion are crucial for resilience in a world facing global shocks and disruptions. Pembina Institute is committed to creating a better world that benefits everyone. Learn more about our commitments here.
Our path towards Reconciliation
Equity is one of Pembina Institute's core values and we believe that good climate and energy policy must also be good community policy. Yet we realize an increased effort is necessary on our part to truly live out these values. This is especially evident when we consider how our work as a national organization on the front lines of climate change is impacting Indigenous Peoples in what is now called Canada. Read more about our path towards Reconciliation and prioritizing Indigenous leadership.
---
Where we come from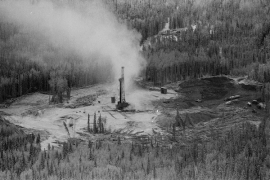 Three decades ago, the Pembina Institute was formed following a major sour gas incident in Alberta. The Lodgepole blowout killed two people and polluted the air for weeks. The event was largely the result of poorly regulated energy development. 
In response, a small group of rural Albertans came together to secure tougher regulations for drilling sour gas wells. Those regulations were implemented province-wide.
The core members of that group went on to form the Pembina Institute.
Learn more about our 30-year journey.
---
We are working to build an energy system that protects our climate and our communities.