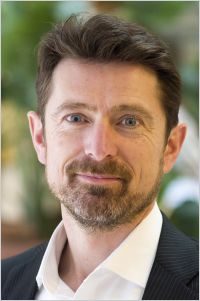 Ed Whittingham is the Executive Director of the Pembina Institute, Canada's leading energy and environment think tank. The Pembina Institute advocates for strong, effective policies to support Canada's clean energy transition. Its 45 staff work out of four regional offices across Canada on a $5 million annual budget. In 2011 Ed was named to the Clean50 list, which honours 50 outstanding contributors to sustainable development and clean capitalism in Canada, and in 2016 he was named to Alberta Venture magazine's list of Alberta's 50 Most Influential People.
Through his work Ed advises governments, regulators, companies, and research networks and civil society on clean energy. He regularly speaks on climate/energy policy and emerging trends. Ed's affiliations include Leadership Development at The Banff Centre, the World Economic Forum's Global Agenda Council on the Future of Oil and Gas, Smart Prosperity and Shell Global's External Review Committee.
Ed holds an International MBA from York University's Schulich School of Business, where he specialized in corporate sustainability and international business. His interest in international issues began when he spent a year in Japan as part of the Rotary International Youth Exchange Program. During his graduate studies he was a Social Sciences and Humanities Research Council of Canada scholar, an Export Development Canada scholar and a visiting researcher at the United Nations Environment Programme's Japan branch. From 2007-2008 he served as an Alcoa Foundation Conservation and Sustainability Practitioner Fellow for his research on the U.S. Climate Action Partnership.
Ed has been profiled in the Globe and Mail, the National Post and Alberta Oil Magazine, and his op-eds have been published in newspapers and magazines across Canada and internationally.

Ed Whittingham is available for speaking engagements.
---
Contact Ed Whittingham
cell: 403-899-0578 • tweet: @edwhittingham
Send an email
Ed Whittingham's Recent Publications