Maintaining a healthy environment, a stable climate and prosperous communities requires collaboration, evidence-based decision making and innovative solutions.

That's what the Pembina Institute is about.
The Pembina Institute is working to solve today's greatest energy challenges — reducing the harmful impacts of fossil fuels while supporting the transition to an energy system that is clean, safe and sustains a high quality of life. We provide our expertise to industry and government leaders, and we advocate for a strong, science-based approach to policy, regulation, environmental protection and energy development.
It's time to transition to cleaner energy systems.

---
What we do 

As Canada's go-to source of energy expertise, we provide research, analysis and recommendations to inform policies and practices related to energy. We advocate for approaches that protect our natural systems and communities.
We offer custom-built consulting solutions grounded in rigorous technical expertise and a comprehensive understanding of the Canadian energy landscape.

We convene important conversations with thought leaders from industry, government, communities and the environmental sector to identify common ground and move solutions forward.

We present credible and practical perspectives on the role of energy in our society. We ground Canada's energy conversation in the facts, and we challenge conventional thinking with innovative solutions.
---
Where we come from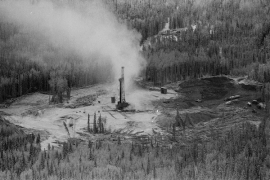 Three decades ago, the Pembina Institute was formed following a major sour gas incident in Alberta. The Lodgepole blowout killed two people and polluted the air for weeks. The event was largely the result of poorly regulated energy development. 
In response, a small group of rural Albertans came together to secure tougher regulations for drilling sour gas wells. Those regulations were implemented province-wide.
The core members of that group went on to form the Pembina Institute.  
Since then, our work has expanded outside Alberta, but our focus remains the same: We push industries and governments to go beyond the bare minimum to manage the impacts of energy development, and we advocate for those improvements to be embedded in provincial and federal policy.
Learn more about our 30-year journey.
---
Where we work
Our staff work on regional energy priorities and major national energy-related issues.
In Alberta we advocate for an approach to energy development that respects science-based limits and protects air, land, water, species and communities. Given the province's incredible renewable energy potential, we also promote the shift to cleaner energy sources — especially in the electricity sector — and the development of innovative energy technology.  
We support British Columbia's leadership on the carbon tax and reducing energy waste in the building sector while holding the government to account for its climate commitments as it looks to develop its natural gas reserves. We are also exploring the opportunities for growth and diversification presented by the province's emerging clean energy economy. 
In Ontario, transportation is the largest and fastest-growing source of carbon pollution. We advocate for expanding rapid transit infrastructure and supporting urban and suburban development policies that reduce traffic congestion and create more walkable neighbourhoods.
At the national level, we work to hold the government of Canada to its promises of responsible resource development, starting with effective climate policies.  
Explore our energy priorities in more detail.
---
At the Pembina Institute we are working to build an energy system that protects our climate and our communities — one that Canadians can be proud of.  
Help us make it happen!