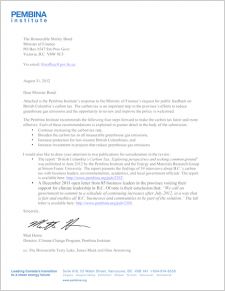 The Pembina Institute views British Columbia's carbon tax as an important first step in the province's efforts to reduce greenhouse gas emissions and build an economy powered by cleaner sources of energy. Looking forward to 2013 and beyond, the Pembina Institute recommends four changes to improve the fairness and effectiveness of the carbon tax. This document is our formal submission to British Columbia's carbon tax review.

Read Pembina's submission

The Pembina Institute was also a signatory to a joint labour union-environmental organization submission on recommendations for the 2013 provincial budget regarding the carbon tax.