Oilsands Fever: Blueprint for Responsible Oilsands Development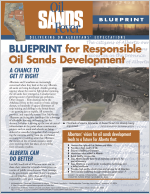 In response to Phase II of the Alberta Oilsands Consultations, the Pembina Institute released this blueprint that calls for a moratorium on new oilsands project approvals and lease sales until six key requirements for responsible development are addressed.

Learn more about our programs: Oilsands.
Find more content by topic: Oilsands, Alberta, Arctic Canada, Water.