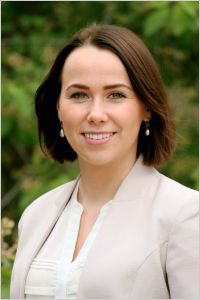 Erin Flanagan is the director of the Pembina Institute's federal policy program. In this role she spearheads national policy campaigns on climate and energy issues – including on carbon pricing, electricity sector regulation and environmental law reform – and supports the Institute's regional priorities in Ottawa. Erin is the co-author of more than a dozen publications and frequently represents the Institute at regulatory and multi-stakeholder processes.
Day-to-day Erin researches and promotes public policy solutions that reduce the environmental impact of fossil fuel development and that support Canada's transition to clean energy. As a technical analyst at the Institute, she contributed to public- and private-sector projects on a range of issues in the oilsands, including greenhouse gas and water management, tailings treatment, and land reclamation. Her technical and opinion work has been published in The Globe and Mail, Toronto Star, and PostMedia newspapers across Canada. As a frequent spokesperson for the Institute, she appears regularly on national current affairs television programs, including CBC's Power and Politics.
Erin holds a bachelor of science in chemical engineering with a minor in public policy from the University of New Brunswick. Her contributions to technical and humanitarian issues have been highlighted by organizations including the Canadian Engineering Memorial Foundation, the Association of Professional Engineers and Geoscientists of New Brunswick and the Canadian Society for Chemical Engineering. In 2016 she was named one of Canada's top 30 under 30 in sustainability by Corporate Knights magazine, and has twice been named one of Ottawa's "Top 100 lobbyists" by The Hill Times. 

Erin Flanagan is available for speaking engagements.
---
Contact Erin Flanagan
cell: 587-581-1701 • tweet: @e_flanagan
Send an email
Erin Flanagan's Recent Publications