Losing Ground
Why the problem of oilsands tailings waste keeps growing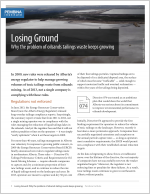 In 2009, new rules were released by Alberta's energy regulator to help manage growing volumes of toxic tailings waste from oilsands mining. As of 2013, not a single company is complying with those rules.
This fact sheet reviews the current state of tailings waste in Alberta, and makes three recommendations for the new Alberta Energy Regulator to help ensure that resource development in the province is efficient, safe and responsible.
Learn more about our programs: Oilsands.