Reducing Pollution, Creating Jobs
The effects of climate policies on employment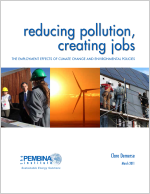 This report examines the evidence from a wide range of international and Canadian research on "green" jobs and the economic impacts of climate policies. The report finds that Canada's governments could create more jobs by implementing strong climate policies than by continuing with business as usual.
Download the slide show (8.5 MB) and presentation notes (PDF, 1.4 MB).
Download Appendix: Human Resources and Skills Development Canada documents (PDF, 4 MB)

Find more content by topic: Climate Change, Energy Efficiency, Green Economics, Renewable Energy, Carbon Pricing, Federal Action, International, Oil & Gas, Pembina*.