Duty Calls
Federal responsibility in Canada's oilsands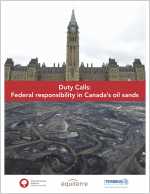 Existing legislation, ranging from the Canadian Environmental Protection Act to the Species at Risk Act, assigns a clear role to the federal government to ensure industrial development respects environmental limits — regardless of the region in which it takes place.
Duty Calls: Federal responsibility in Canada's oilsands outlines the laws mandating federal involvement in environmental management of the oilsands, and explores what's at stake if Ottawa continues to neglect this responsibility.
Report: English Report: French Summary: English Summary: French Release: English Release: French
Find more content by topic: Oilsands, Alberta, Federal Action.