Download our briefing note on energy efficiency in the Alberta Building Code
If you're buying a new home in Alberta, there's a good chance that very same home wouldn't be allowed on the market in Ontario.
Why? The energy efficiency of the home could be far too low. And that will cost you money — as much as 35 per cent more on your heating and air conditioning costs every year.
That's part of the reason why we oppose the Alberta government's recent decision to stop its efforts to increase energy efficiency requirements in the building code. Alberta is waiting to adopt the energy efficiency requirements in the next version of the National Building Code, which may seem logical at first glance, but when you take a closer look, it's not.
You see, the new National Building code is expected to set the energy efficiency level equivalent to EnerGuide 80 for houses and no jurisdiction has ever gone from Alberta's current level of energy efficiency (approximately EnerGuide 70) to EnerGuide 80 without an interim step. In fact, Nova Scotia tried and needed to revise its plans to include an interim step.
The Alberta chapter of the Canadian Home Builders Association has opposed efforts for Alberta to adopt interim energy efficiency requirements and may oppose efforts to adopt the new National Building Code in Alberta if EnerGuide 80 is required.
But every year the adoption of a new building code is delayed is estimated to cost Albertans hundreds of millions of dollars. For homeowners who mortgage their houses, higher energy efficiency standards start saving them money in the first year of home ownership, and every year after.
For example, an EnerGuide 80 homewill save a homeowner $70 per month in Calgary and $100 per month in Edmonton compared with a house built to the building code. The increased cost to build this house is approximately $6,000 or $35 per month. This means that owners of high-efficiency houses have a net savings of $35 to $65 per month, starting in their first year of ownership. That really adds up over time, saving an Edmonton homeowner $780 in just the first year and more than $16,000 over the course of 25 years.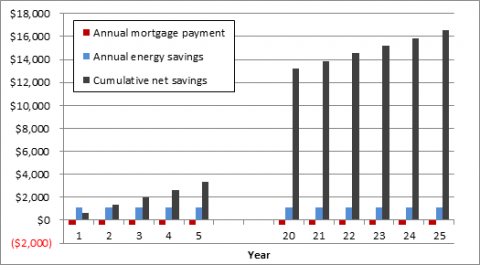 Not only are homebuyers guaranteed a more energy efficient home if the building code is improved, but experience elsewhere has indicated that the cost to the consumer for an energy efficient home declines as higher levels of efficiency become a requirement. Right now in Alberta, some builders charge up to $11,000 to upgrade to an EnerGuide 80 home (this includes a premium markup), while others say their costs are as low as $5,000 for the upgrade. At least one builder has a stated goal to provide EnerGuide 80 homes at no extra cost. 
Even at the highest cost noted, an EnerGuide 80 house still has net savings for the homeowner in the first year of ownership. An interim step in the code is expected to have even greater returns on investment as the most cost-effective upgrades can be installed first to get to a mid-70s EnerGuide rating. In fact, the Alberta chapter of the Canadian Home Builders Association states that most homebuilders are already building to this mid-70s level. An interim building code would therefore be most effective in preparing the builders that are not building to the mid-70s EnerGuide level for a transition to the National Building Code.
It would also ensure Alberta homebuyers aren't wasting hundreds of dollars on energy each year — and who can argue with that?
---
Jesse is an energy efficiency programs expert for the Pembina Institute. He is based in Calgary.
---