Reports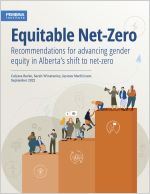 Equitable Net-Zero
Recommendations for advancing gender equity in Alberta's energy transition
This report outlines ten actions to dismantle existing obstacles to to women benefiting from and succeeding within the energy sector in Alberta. It builds on the Pembina Institute's 2021 publication Women in Alberta's Energy Transition, which identified key barriers to participation, and is based on conversations with hundreds of women representing dozens of organizations — both in the traditional oil and gas sector as well as in the burgeoning renewables field — in Alberta.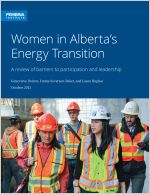 Women in Alberta's Energy Transition
A review of barriers to participation and leadership
During a time of shifting global energy trends, Alberta's energy industry is also changing. The transition toward renewables provides an opportunity to purposefully create a net-zero energy economy for the province that includes and benefits everyone. This report examines drivers of gender inequity in Alberta's traditional and renewable energy sectors to help inform the policy and cultural shifts needed to ensure an equitable future for women in energy.